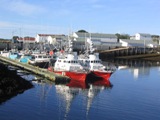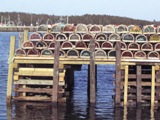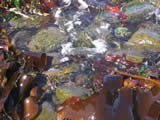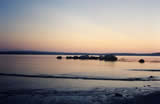 Research and Projects
Community Conservation Research Network (CCRN)
The CCRN is a network of researchers and diverse community, aboriginal and governmental organizations at over 20 study sites around the world, hosted at Saint Mary's University in Halifax, Canada. Through the CCRN, these researchers and partners leverage expertise, collaborations and local knowledge on the linkages between communities, conservation and livelihoods, to compile, synthesize and create new knowledge of national and international significance. New insights from the CCRN's research into regional and community environmental governance, capacity-building for aboriginal self-governance, local networking and the success of conservation initiatives will yield important lessons for communities, policy makers and decision makers at all levels. Please explore the extensive website CommunityConservation.net for details.
Marine Environmental Observation Prediction and Response Network (MEOPAR)
MEOPAR is a Network of Centres of Excellence across Canada (www.meopar.ca) that brings together researchers to build Canada's capability to assess and respond to marine hazards – such as oil spills, coastal flooding and the longer-term threats of climate change – and to manage the risks involved. Dr. Charles is Principal Investigator of a component of MEOPAR on Human Dimensions of Coastal Community Response to Marine Hazards and Climate Change. He is also part of a team (ICAP) studying ocean acidification and its impacts on coastal communities and economies. With communities along Canada's coasts regularly facing crisis situations due to marine hazards, it is important to support them through a set of 'best practices' that build community resilience to marine hazards, making use of all forms of knowledge, including local knowledge. Our integrated research approach combines social-ecological systems thinking with concepts of social learning and empowerment. We seek to support community adaptive capacity and long-term development of key strengths in Canada's coastal communities necessary to make them resilient to marine hazards, long-term and short-term. An evidence-based assessment of best practices for community level preparedness and resilience, along all three coasts of Canada, is being developed through a global meta-analysis of case studies. This will be used to provide policy input to governments, and to develop mechanisms for rapid appraisal to identify community values and priorities, and to assist in long-term planning for and short-term response to emergencies.
The OCP is dedicated to building resilient and sustainable oceans on all Canadian coasts and to supporting coastal communities as they respond to rapid and uncertain environmental changes. The research synthesizes social, cultural, economic and environmental knowledge about oceans and coasts nationally. Over the life of the project and beyond, we are taking stock of what we know about Canada's three oceans, building scenarios for the possible futures that await our coastal-ocean regions, and creating a national dialogue and shared vision for Canada's oceans. The component of OCP being led by Dr. Charles involves community-level and synthesis research focused on the future of Canada's coastal communities. The first aspect of this project is community-based scenario-building to explore options for responding tochanges in social-economic and ecological aspects of coastal communities, and of specific sectors (e.g., fisheries, tourism, youth, elders), relating to economic development, environmental conservation, coastal planning, and climate change. This research will involve direct engagement with the community of Port Mouton Bay, Nova Scotia, an Ocean Canada partner. The second aspect encompasses the province of Nova Scotia and beyond, involving comprehensively identifying and surveying coastal communities engaged in local visioning, scenario planning and sustainable economic development, to develop a database of relevant communities, and to analyze results across the identified communities.
"Peces para la Vida" - Fisheries, Aquaculture and Food Security in the Bolivian Amazon
Peces para la Vida aims to improve food security in Bolivia's Amazon through better-managed fisheries and small-scale aquaculture. It began in 2011, jointly between Faunagua, World Fisheries Trust and Agua Sustentable, supported by the Canadian International Food Security Research Fund (CIFSRF). The objective of the project is to contribute to food security in Bolivia by strengthening the fish value chains, in partnership between actors and institutions. The project seeks to (1) optimize sustainable management practices of Paiche (Arapaima gigas) and replicate them in indigenous communities, (2) improve and disseminate fish marketing strategies, improving fish quality, to increase income and household nutrition, (3) develop and provide financial support mechanisms to expand small-scale entrepreneurship in the fisheries and aquaculture sectors, (4) increase livelihoods through small-scale family farming, focusing on the leadership of women, environmental sustainability and social responsibility, (5) contribute to building a favourable environment for the governance of fisheries and aquaculture in Bolivia, (6) contribute to understanding of concepts and practices to replicate successful experiences on a larger scale.
Canadian Capture Fisheries Research Network
This NSERC-funded research network (2011-2016) was a unique collaboration among Canada's academic researchers, fishing industry and government. Its vision was to re-shape fisheries research in Canada, by focusing on priority research questions, and linking existing research nationally. The research aimed at increasing knowledge to enhance ecological sustainability, viability, and improved management of Canadian fisheries. It included research to overcome information gaps in relation to important fisheries, improve the use of industry information in assessment and management, enhance ecological sustainability, and improve the basis for the ecosystem-based approach to fisheries management. The network involved 33 academic co-applicants from 11 universities working in collaboration with the fishing industry of Canada, researchers and managers from the Department of Fisheries and Oceans and other federal and provincial departments. The network was industry driven, and focused on active collaboration of industry members. The network increased research and training and provided information, knowledge and technology of use to the capture fisheries industry.
Partnership for Canada-Caribbean Community Climate Change Adaptation (ParCA)
This five-year project (2011-2016) studied how small and medium-sized coastal communities in Jamaica, Tobago, Nova Scotia, and Prince Edward Island are adapting (and seek to adapt) to the impact of rising sea levels and other climatic changes. ParCA involved a team of researchers from Saint Mary's University, the University of Waterloo, the University of Prince Edward Island, and the University of the West Indies. ParCA produced best practices guidelines and lessons learned that can be applied to other coastal communities around the world. The project was funded under the International Research Initiative on Adaptation to Climate Change (IRIACC), supported by Canada's International Development Research Centre, the Canadian Institutes of Health Research, the Natural Sciences and Engineering Research Council of Canada, and the Social Sciences and Humanities Research Council of Canada.
Coastal CURA (Community-University Research Alliance)
The Coastal CURA operated over the 6-year period 2006-2012, building knowledge and capacity, across the Maritimes, to support community involvement in managing our coasts and oceans. The Coastal CURA - a "Community University Research Alliance" – operated as a partnership of First Nations communities, fishery-related organizations and university participants, funded by the Social Sciences and Humanities Research Council of Canada (SSHRC). The project reached out as well to other communities, organizations and academics, as well as to government agencies, interested in contributing to the goals of the project. With coastal communities and coastal resource users facing challenges from a range of environmental, economic and social impacts, the Coastal CURA helped to meet these challenges through support for community involvement in both grass-roots and large-scale integrated coastal and ocean management initiatives – typically ones that seek to manage multiple coastal uses (fishing, aquaculture, shipping, tourism, etc.) and that can have a major impact on the social and economic well-being of coastal communities. The Coastal CURA website (see link above) houses the proceedings of the international conference "People in Places", which provides knowledge and insight on these coastal community challenges.
Governing Small Scale Fisheries Project: Canada-WorldFish Center Collaborative Project
This project, funded by the Canadian International Development Agency (2009-2012), aimed to make small-scale fisheries more resilient, focusing on a social wellbeing perspective. Wellbeing has the advantage of being intuitively appealing and yet, in forms such as the social wellbeing perspective, also providing a rich analytical perspective that can be applied to fisheries and other sectors. While hardly a new concept, it is now widely embraced as a way to expand beyond narrow measures of development success. In fisheries, wellbeing builds on longstanding arguments that fisheries governance will be more successful if not driven solely by a focus on rent maximization but instead considering the numerous factors that shape fisher decision making. The Governing Small-scale Fisheries project brought together Canadian and international fisheries scholars and WorldFish scientists to think through the potential contributions of the social wellbeing approach for fisheries governance, with the ultimate goal of improving the poverty-reduction outcomes of governance reforms in small-scale fisheries in developing countries. We succeeded in developing a conceptual and practical understanding of how wellbeing considerations may be fully incorporated into fisheries governance reforms, and correspondingly into the design of fisheries management instruments.